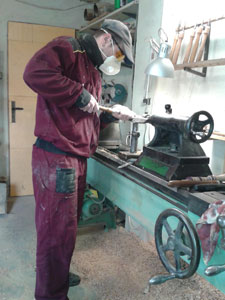 Welcome to my webpages, dedicated to my favorite handicraft - manufacturing of bagpipes and shawms. I am glad that you found your way over here. I believe that information of this website will enchant every lover of these instruments and you find here what you are looking for, maybe a perfect instrument or consultation about your own instrument and experiences as shawm's and bagpipe's producer or player.
I started to be interested in bagpipe's and shawm's manufacturing thank to my desire to own amazing bagpipe and play them, but despite my big effort I could not find any instrument that would meet my expectations, especially concerning the reliability of tuning. My dissatisfaction with quality and functionality of available instruments led to my interest in how these instruments should function and which proportions they should really dispose with. My wish was to create unique modern instruments, using traditional methods of manufacturing. So I also focused on chromatics - semitones in the entire tone scale destine these instruments to unusual universality.
Very important aspect of my handicraft is cooperation with top musicians playing reed instruments, who test my products in their profession and give me advices for improvements.
Recently, I am manufacturing instruments in A/D dur/moll keys routinely. I am testing another keys and various versions of instruments which will gradually enrich my sortiment of offered instruments. Those who are interested in experiments, can ask me for their demands already now.
I am ready to discuss this topic and my personal experiences. Experiences of each bagpipe-player can be a big contribution for me. You can reach me by phone, e-mail or Facebook. For my clients I do complete technical support and also provide consultation in order to get familiar with the instruments properly.
So, enjoy your playing!